Introductie Google
Opmerking: Wikipedia: Google: Don't be evil is (was?) het informele motto.

De afgelopen jaren heeft het Android operating systeem voor mobile telefoons en tablet computers veel aandacht gekregen.
Een groot voordeel van Android is, dat het een opensource platform is.
Voor Android is ook veel informatie beschikbaar om zelf software te maken.
Deze zomer komt de derde generatie laptops beschikbaar met het 'Chrome' operating system van Google, Samsung, Acer, HP en Lenovo
15 jaar gebruikte ik een HP 100LX 'Palmtop' (1995-2010) als 'Personal Digital Assistant', zie ook: blogpagina juli 2010 voor meer technische details van de palmtop.
Klik met de muis op het kleine plaatje voor een grotere afbeelding! Het voordeel van de HP Palmtop is, dat hij past in een jaszak. Voor een notebook of een netbook heb je een tas nodig.
Persoonlijk ben ik zeer gecharmeerd van de 7 inch PDA's [anno 2011!] zoals de ( Wikipedia: Galaxy Tab ), de Asus Eee-Pad MeMo.
Met de komst van de nieuwe versie 3.0 van Android 'Honeycomb' is het operating systeem zeer geschikt voor tablets, als opvolger voor de palmtop.
Voor mij is een permanente internet verbinding niet nodig, met 'WiFi' kan indien nodig een internet verbinding gemaakt worden.
Handig is, dat voor het gebruik als route planner, de benodigde kaarten gedownload kunnen worden.
De tablet moet wel voorzien zijn van een GPS chip voor de positie bepaling!
Een informatieve site voor 'smart phones' en 'tablets' die met 'ARM' chips werken is: armdevices.net

nieuws:
Computerworld: 7 veelbelovende tablets
Software
Minder bekend is, dat Google ook 'gast' is was voor veel open source projecten ...
Android

Websites
---
Software

Website: Android.
Website: Androidapps: Google Play.
Calibre: beheer van EBooks: website: calibre-ebook.
Zie ook: Engelse Wikipedia: Calibre Calibre kan met zeer veel bestandsformaten overweg. De 'boeken' kunnen naar een tablet of smart-phone geëxporteerd worden.
Op de startpagina ven de website staat een duidelijke animatie, hoe het programma werkt.
EBook readers
kWS Android web server: zie artikel techrepublic.
kWS is geschikt voor statische websites (alleen html, geen database).
---
Ontwikkeling
Voordeel van Android:

Voor de software in men niet afhankelijk van de "Play-store" van Google om software te installeren.
De software zit ingepakt in een "apk" bestand, en kan men ook zelf eenvoudig via een usb kabel kopieeren, zie ook HTC-Flyer: apk sideload.

N.B.: bij Apple en Microsoft moet de software eerst 'goedgekeurd' worden.
Chrome OS

Opmerking:

Zie ook de nieuwe pagina

chromebook

voor veel meer informatie!

Het Chrome Operating Systeem maakt ook gebruik van een Linux kernel.
In plaats van een standaard desktop, wordt alleen een Chrome browser opgestart. Hierdoor start het systeem erg snel, ca 7 seconden, mede door het gebruik van SSD: Solid state drive in plaats van een harde schijf. Eind 2010 werd een test exemplaar getoond, die door ca 60.000 mensen getest werd: zie Engadget: Google CR-48 chrome Zie Wikipedia afbeelding: Google Chrome notebook CR-48 Alle Engaget nieuws: tag: Chrome OS In de zomer 2011 kwam een Chrome OS netbook uit, zie: Tweakers: Zie: Developer Information for Chrome OS Devices
Geschiedenis van de Chromebooks:
Release date:
Manufacturer:
Model:
Project code name:
December 2010
Google
Cr-48
Mario
June 2011
Samsung
Series 5 Chromebook
Alex
July 2011
Acer
AC700 Chromebook
ZGB
May 2012
Samsung
Series 3 Chromebox
Stumpy
May 2012
Samsung
Series 5 500 Chromebook
Lumpy
October 2012
Samsung
ARM Chromebook 'XE303C12'
Snow (aka Daisy)
November 2012
Acer
C7 Chromebook
Parrot
January 2013
Lenovo
Thinkpad X131e Chromebook
Stout
February 2013
HP
Pavilion 14 Chromebook
Butterfly
February 2013
Google
Chromebook Pixel
Link
Op 6 april 2013 verscheen een pagina grote advertentie in een bekend landelijk ochtendblad: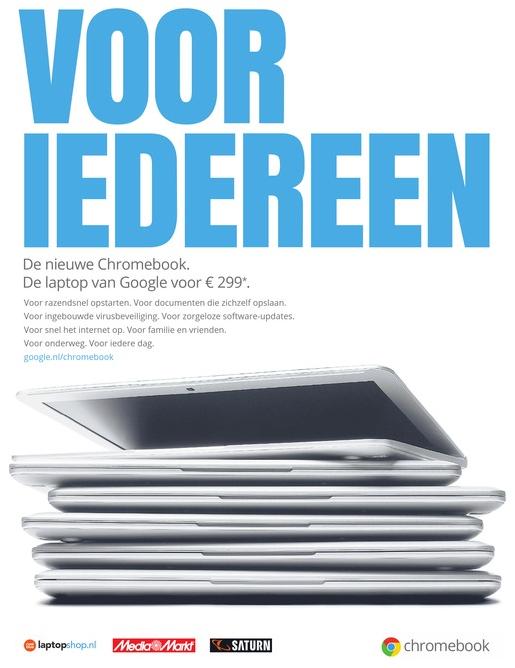 Zie ook:
Google: Chrome laptops van Samsung, Acer en HP.
Samsung: laptop 'XE303C12': De Chromebook levert een opmerkelijke en probleemloze prestatie tegen een betaalbare prijs. Testverslagen: Google zoeken: XE303C12 gaf onder andere:

Samsung 11.6" Chromebook 2GB Memory 16GB Flash eMMc ...

www.bestbuy.com/site/Samsung---11.../6869096.p?...

Rating: 4.2 - 340 reviews - $249.00 - In stock

Model:

XE303C12

-A01US; SKU: 6869096; Customer Rating: ... Stay connected and

productive on the go with this Samsung

XE303C12

-A01US chromebook ...

Interessant zijn de revieuws: "83% of customers would recommend this product to a friend (284 of 340)."
In de revieuws wordt uitgebreid ingegaan op de details.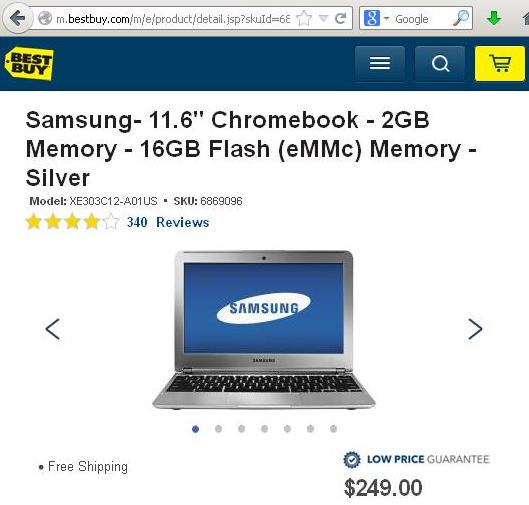 Link: BestBuy: Samsung Chromebook Zie ook:
Samsung ARM Chromebook developer information. and: What´s inside?
Tips en tricks: Als je niet je data in de Google 'Cloud' wil opslaan kan je als alternatief je eigen PC gebruiken, 'Remote Access':
Ericom: Windows on a Chromebook
Instantly deliver Windows applications and desktops to Chromebooks and Chromeboxes, with Ericom AccessNow HTML5 RDP Client
The combined Google Chromebooks and AccessNow (HTML5 RDP Client) solution enables education, government, healthcare, financial and other organizations to provide access from Chromebooks, including the Chromebook Pixel, and Chromeboxes to Windows virtual applications and desktops including VMware View virtual desktops.
Een ander alternatief is om zelf een privé dropbox te maken met de 'Raspberry Pi'!
Zie BlogPagina juli: Raspberry Pi voor een uitgebreide introductie van deze mini computer van ca 40 Euro.
Op de website van Computer Totaal: cloud-server (deel 2) is een artikel over een 'dropbox' met de Raspberry Pi.
Zoeken met Google: 'Raspberry Pi owncloud' geeft meer voorbeelden!

Aanbevolen: HowToGeek:
Kennis maken?